Short Fiction
Renner's homage to Borges, "Translated by the Author," appeared in 2008 in New York Tyrant and in 2009 the same magazine published "Stop Your Caterwauling" (excerpted from A Death by the Sea). Other selections from the novel appeared in The Anemone Sidecar,Unscroll and Keyhole. Selections from the verse/prose novella Disbelief were published in New York Tyrant and The Anemone Sidecar, Chapter 6, and Sleeping Fish published the "Introduction" to Christabel: a Fiction in late 2009. Grey Sparrow Journal published an excerpt from Christabel along with "On the Waves" from the chapbook-length story collection Dr Fenech's Guide to Lycanthropy in Malta (1913). "Running Night," also from Dr Fenech, appeared in The Collagist. All of these works are set in (or in some way related to) Malta which Renner has visited in 2007, 2010 and 2012.
Three of his micro-fictions are included in jmww Anthology VI (best of 2011), and two others will appear in 2012 in New York Tyrant. "Philoctetes / Sophocles / Melita" appeared in February 2010 in Everyday Genius, as part of a series Fortunato Salazar solicited from various authors in response to several lines from Sophocles' Philoctetes. Dr Polidori's Sketchbook, a chapbook featuring text and pencil drawings, was released in April 2010 by Mud Luscious Press, and his micro-fiction "Nurse Normal" was published by Blip in March 2011. His ghost stories "The Retablo" and "Which, Being Translated, Means" were published by Ash-Tree Press (Canada) in, respectively, the magazine All Hallows and the anthology Shadows and Silence. Meg Pokrass interviewed Renner for SmokeLong Quarterly in late 2009, and in late 2012 Nicolle Elizabeth and Kevin O'Cuinn interviewed him for Word Riot.
Criticism
From 1997 until 2011, Renner wrote the literary column "In Dissent" for Web Del Sol.
Art
His illustrations have been used as cover and/or interior art in four chapbooks from Bannock Street Books, including the chapbook anthologies Flushed, The Mother, the Son and the Holy Ghost and Outlaws, and the story collections St Sebastian and the Ravioli of Love by Sarah Black and Lost and Found by Meg Pokrass. His photograph "Kiss Kiss" is featured on the cover of Same Opposite, a chapbook by Parker Tettleton, and Eric Beeny's Of Creatures (2011) features another of Renner's photographs. "The Bicyclist" and "Wither" appeared in July 2010 in the Summer Splash issue of Sleet Magazine. Ravenna Triple #1 (the first in a new series from Ravenna Press) includes poetry by Alek Lindus, fiction by Brandon Hobson, and two sets of Renner's drawings, "The Amores" (a wordless sequence of lined drawings) and "The Sorrows of Young Hemdlos" (a graphic novella inspired by, and in some ways a joust at, pre-Modernist "school fiction" such as Musil's The Confusions of Young Torless.
Translation
Ravenna Press published Chinese Checkers: Three Fictions in May 2006. The book includes Cooper Renner's translation of three novellas by noted Mexican writer Mario Bellatin: "Chinese Checkers," "Hero Dogs" and "My Skin Luminous". He was also do-translator of Ravenna Press's edition of selected poetry by Luis Benítez of Argentina, A Heron in Buenos Aires.
Renner has also translated the following works by Ignacio Padilla: "Funeral Among the Oyameles", an essay (elimae, 2005); "The Sad Fate of the Graduate Rocamadour Muskaria, a story (Cafe Irreal, 2006); and "The Kindness of Strangers", an excerpt from the novel Espiral de artillería, in The Anemone Sidecar #3 (2006: Ravenna Press.
Editing and Design
In 2005, he began editing elimae, founded by Deron Bauman in 1996, and continued editing there (assisted by Kim Chinquee and Brandon Hobson in its final years) until Bauman decided to suspend the magazine in late 2012. Doug Martin and Brian Beatty interviewed Renner in 2007 for Snowvigate, and he has been interviewed also at HTMLGiant.
With Deron Bauman and Kathryn Rantala, he founded Triple Press in 2005 and edited Faruk Ulay's Terra Infirma (2005), Robert Castle's The End of Travel (2006) and Norman Lock's Two Plays for Radio (2006).
In 2006, he became a co-editor at Ravenna Press. Kim Chinquee's first collection Oh Baby is now available and was followed in 2009 by Daryl Scroggins' collection This Is Not the Way We Came In. He has also designed the texts and covers for Ravenna's new edition of Rudy Wilson's The Red Truck (originally published by Knopf in 1987) and Wilson's first collection of short fiction, Sonja's Blue, both of which appeared in 2009, as well as designing the cover of the anthology Online Writing: the Best of the First Ten Years, ed. by Doug Martin and Kim Chinquee.


Photo by Mario Bellatin for Hero Dogs






Photo by Mario Bellatin for My Skin Luminous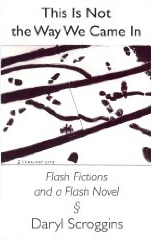 Daryl Scroggins:
This Is Not the Way We Came In